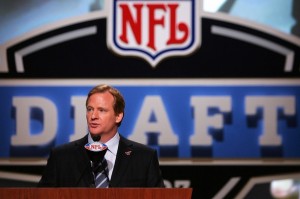 Have you grown as sick of hearing from ESPN's Todd McShay and Mel Kiper Jr as I have? Since January, with increasing frequency, the dynamic duo have analysed the NFL draft every which way. They've rated the quarterbacks, they've done full 1st round mocks and the ole' faithful top 10 list.
The favorite topic of their discussion is quarterback. Why not? It's the sexiest position in football and the positions will sink or swim in this year's draft. McShay and Kiper change their opinions like cheap suits. Cam was the best, then of late Gabbert seems to be the favorite flavor. Then there is my particular favorite, character. Why does Newton have bad character? Is it because schools wanted to buy him? Absolutely no proof exists that he entertained such discussion and even less that he actually took anything. Mallett's stock, at least according to the ESPN experts, is in an absolute free fall. It seems somewhere along the testing process, Mallett acknowledged that he had smoked pot. At least he was honest, unlike some that denied ever doing so, I am  sure.
The winner in the character assault has been Gabbert. The golden boy that reminds me of Ryan Leaf has seen his ESPN stock skyrocket with the attacks on the SEC boys. Is this an attack on the Southeastern conference? Its us against the world, life  is tough I guess, when you are at the top. Gabbert ran almost strictly out of shotgun in a spread offense at Missouri. He lost most of the big games he played in and most importantly refused to take part in some aspects of the NFL combine. Where does Gabbert rank among the quarterbacks in Thursday's draft? In my book, he should be either 2nd or 3rd quarterback taken. More specifically, despite the campaign from ESPN, he will be 2nd or 3rd quarterback taken…. not first.
Write it down, take it to the bank, Cam Newton is going first to the Carolina Panthers. Sure they took Notre Dame quarterback Jimmy Clausen last year, but you don't pass on a once in a lifetime talent like Newton. Clausen was one of the most highly regarded high school quarterbacks in recent years and enjoyed great success in South Bend. Is Carolina even considering Gabbert? No. Why? Because they're not sure he's better than  what they already have. If Cam was gone and I was in dire need of a quarterback, I would consider Mallett instead of Gabbert. Maybe its the SEC in me.
What about the rest of the quarterbacks? Sure, if we're talking late in the 2nd round and the franchise fate isn't relying on the pick.  In my opinion, Jake Locker is the best of the rest. Reminds me somewhat of Heath Shuler, which is a bad thing, but we couldn't have another one of him could we?  Taking Locker in the 2nd round isn't as painful as the Redskins taking the Congressman with the 3rd overall pick in the 1994 draft. I am convinced that the Shuler pick and the subsequent Michael Westbrook selection with the 4th overall pick the following year put  Norv Turner in a hole too deep to ever recover from. Next Troy Aikman and Michael Irvin? Hardly.
What left? Andy Dalton from TCU? West Coast guy -which is code for- has a weak arm. Led the TCU look at me campaign. Again probably the SEC in me. Christian Ponder? Never delivered up to potential at Florida State. Why now? Nevada's Colin Kaepernick? Small school competition leaves a big question mark in my mind. I know, it's an SEC thing. I could see New England with one of its twenty picks, or whatever they have stockpiled, taking a chance, or Indianapolis. Need to start grooming the replacements for Tom Brady and Peyton Manning right? Since they are both going to play as long as Favre did, you have room to miss.
Next, we will review the running back candidates.