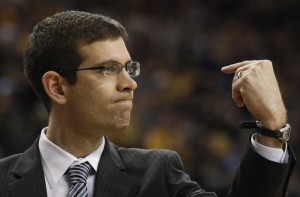 The college basketball season comes to a close tonight with the National title game at Reliant Stadium in Houston, Texas. The entire basketball world will be watching as the NBA takes the night off to enjoy.
The tournament has been filled with nothing but surprises and I am finally relenting and going to go with one myself and the Butler Bulldogs.  I have been most impressed by Head Coach Brad Stevens. Is there a better coach in the game? It was a shocker last season when Butler made it to the title game and almost knocked off Duke. When star forward Gordon Hayward departed early for the NBA there was no chance they could make it back to the tourney, much less the Final Four and beyond. Wrong. Even more impressive with Stevens is his humble approach to the game. This was never more apparent than when Stevens was side by side with Virginia Commonwealth coach Shaka Smart. Smart is one of the cockiest coaches around and I think many like myself were pleased to see Butler put an end to that. What will be the difference tonight? Bulldog big man Matt Howard. Is there a scrappier, harder working player around? Howard reminds me of former Lakers forward Kurt Rambis, only with a better offensive game. Howard doesn't fit the NBA prototype, but any coach will tell you he has a future in the Association. If Howard can avoid foul trouble, look for Final Four MVP honors for the big guy.
It would be easy for me to pick Connecticut. The Huskies come from the vaunted Big East and have found a way to win over the past three weeks. Every game was a must for U Conn as a loss anywhere along the way would have ended their run. It started with the five wins in as many days at Madison Square Garden. But Connecticut was willed to victory by Kemba Walker.  Tonight could also be the end for legendary Jim Calhoun. A title would be his third and put him in the rarified air with Coach K, Bobby Knight, Adolph Rupp and John Wooden. Connecticut was hit with suspensions in February for recruiting violations by Calhoun.  He will be suspended from the first three Big East conference games next season with a reduction in scholarships as well. If U Conn wins tonight, what better time for Calhoun to step down. U Conn has long played the AAU recruiting game, something that has become the norm across the game. AAU coaches have become "agents" for players and want preferential treatment from programs to have their star players considered for scholarships. Few refuse to take part, one of which is Maryland coach Gary Williams, but that's another story in itself.
The story lines in the 2010-2011 were many. Kentucky again rolling out a new crop of true freshman for a "one and done" season. The job John Calipari has done recruiting is amazing.  Looking at the 2009-2011 recruiting classes, the Wildcats have landed a dozen 5-stars and four 4-stars according to Rivals. There are conference's that don't bring in that kind of talent over decades. There are rumblings that Calipari may also have coached his last college games, for now. He will be courted by every NBA team with an opening, like Nick Saban, Calipari still wants to prove he can get it done in the pro game.
The other big story line of the season BYU's Jimmer Fredette. Jimmer arrived on the radar a season ago, then took it to another level this season. Perhaps the next "great white hope" Fredette takes the perimeter game to another level, not only in distance but in quickness of release. Its unfortunate we may never see Jimmer play another college game as he too appears NBA bound. Many will be interested, but the home state Utah Jazz have a particular need at the position and covet the potential to put "butts in the seats".
Everything will be final when CBS shares "one shining moment" following the game, one of the great traditions in sports broadcasting.