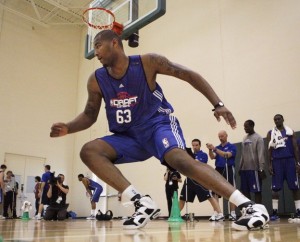 Did anyone else watch the NBA combine? I caught what I could on Thursday and Friday, then watched over the weekend to catch up what  I had misssed. We know the names at the top, only await the order they are ultimately selected. With many top players opting out of Chicago, we had a chance to focus on mid first and second round talent. While the draft lacks elite depth at the top, quality role players will be available well into round two.
We wrap up our first mock with picks 21 through 30.
21. The Portland Trail Blazers managed to steal Gerald Wallace from Charlotte and parlay payment until the 2013 draft. Injuries stand in the way of the Blazers taking the next step. They found gold in Wes Matthews, which allows Brandon Roy to contribute on a part time basis. The acquisition of Wallace and the arrival of LeMarcus Aldridge as an elite post, gives Portland as good a forward tandem as any in the Association. Solid at the two, three and four allows the Blazers to run with Andre Miller and youngsters at the point. Center is where the problem exists and doesn't appear to be getting any better. Does Portland pony up again for Greg Oden? It seems unfair that one franchise is having to suffer through a repeat of one of the worst draft decisions in NBA hisory. Similarities of Oden/Durant and Bowie/Jordan are unsettling. Blazers go with a big body in Maryland's Jordan Williams. Williams total package is a project, but rebounding can translate quickly to the next level. If Oden is healthy, Williams could learn with Marcus Camby as part of rotation.
22. The Denver Nuggets will receive draft pick compensation from the New York Knicks in 2012 and 2013 drafts as partial payment in the Carmelo Anthony deal. Denver already added a handful of young role players in the Carmelo deal and arguably are the deepest team in the West outside of Dallas. The Nuggets needs depend on status of JR Smith, Kenyon Martin and Nene, all of whom have been mentioned in trade talks. Perimeter appears to be the greatest area of strength, with Raymond Felton, Wilson Chandler and Dino Gallinari providing healthy depth. Denver has some big bodies, including another piece of the Melo trade, Russian center Timofey Mozgov.  Tennessee combo forward Tobias Harris would be a nice piece to add to existing personnel and help cover any potential departures. Harris will need to improve defense and rebounding, but should create some akward matchups for opponents.
23. The Houston Rockets have the luxury of a pair of selections in the first round.  The second of two 1st rounders comes from Orlando via Phoenix in the Aaron Brooks trade. The Rockets appear to be moving towards a Kevin McHale hire in advance of next month's draft. McHale's magic may be needed to get Yao Ming back on the court and help with the development of draft deadline acquisition Hasheem Thabeet. Kyle Lowry's continued emergence and ability to co-exist with super shooter Kevin Martin, made the trade of Brooks more palatable. The Rockets have loaded up with a variety of effective role players on the perimeter in Courtney Lee, Terrence Williams and Chase Budinger. Young power forwards Patrick Patterson and Jordan Hill have the potential, its still believed they will develop. What direction will Houston go? Brooks departure might necessitate the addition of a point guard like Michigan's Darius Morris. The 6'4″ Morris saw his game really develop in his sophomore season, increasing his scoring average by more than ten points per game. Morris could  push Goran Dragic as Lowrey's backup.
24. The Oklahoma City Thunder have been the poster child of patience in building through the draft. Slowly, pieces like Durant, Westbrook, Harden and Ibaka have been added while sticking with the plan. Eric Maynor is as solid a backup as there is in the West, while the addition of Kendrick Perkins has fortified the post in a big way. If any weakness has been exposed this post season, its scoring options off the bench on the perimeter. Harden comes off the bench for now, but he figures to be pushing to start by next season. The Thunder would be well served with a regional selection like Texas swingman Jordan Hamilton. Very versatile, with an NBA ready body, Hamilton possesses a big upside.  Adding Hamilton to the rotation of Harden, Durant and Thabo Sefolosha would prove to be a nightmare for opponents.
25. Where do the Boston Celtics begin? Do they have another run left? Danny Ainge has begun the process by retaining head coach Doc Rivers long term, certainly through the transition, whenever  that begins. Outside of Rajon Rondo, the Celts traded their most marketable piece, when Perkins was shipped to Oklahoma City. The Big Three figure to remain with the Celtics until retirement, they make too much to trade and probably prefer to go down fighting in Boston green. Delonte West, Jermaine O'Neal, Jeff Green and Nenad Kristic figure to be the main parts in support of one more run. What is there to build on? Green and Rondo for starters, Rondo securing a place in Boston lore by battling through painful injury in the Eastern Conference semifinals. Many critics have pointed to the Perkins departure as the Celtics downfall, while this certianly had an impact, Green is a big piece now and in the future. Guard Avery Bradley is the other key to the next generation. Bradley was rated the #1 player coming out of high school (USA Today) two years ago, yes, ahead of John Wall. The new big three (Green, Rondo and Bradley) are going to need scoring help and we like UCLA swingman Tyler Honeycutt. Honeycutt developed an excellent mid range game during his second season in Westwood and is also a capable defender.
26. The Dallas Mavericks have a lethal combination of experience and considerable depth. With the exception of 38 year old point guard Jason Kidd, the nucleus appears poised for several more runs. Kansas guard Josh Shelby might be a nice fit as an eventual successor to Kidd. Shelby is more of a combo guard, like Jason Terry, but could benefit from learning from one of the all time great points. Mark Cuban loves Jose Barea and Rodrigue Beaubois off the bench, so Shelby would not be rushed into action and could learn getting beat up in practice. Shelby was thought by some to be the equivalent of Kyrie Irving coming out of high school, so at #26 the gamble is well worth  it. Dallas has incredible depth in the front court. The return of Caron Butler from injury will be huge, but retaining free agent to be Tyson Chandler is a must.
27. Was the New Jersey Nets trade for Deron Williams worth it? Derrick Favors is going to be an NBA superstar some day soon and now the draft pick traded to Utah along with Favors to get Williams is #3 overall, thanks to the lottery. Its an understatement to say that re-signing Williams is the biggest priority in franchise history. The Nets do have a number one pick, courtesy of a salary dump by the Lakers as part of a three team deal. What direction does New Jersey go? I am not kidding when I say ask Deron who he wants. Devin Harris (and Golden State's #1 next year) accompanied Favors to Denver in the trade. Harris' loss in minimal when Williams re-signs. Replacing Favors and the #3 overall pick with the #27 selection is going to be a challenge. The roster is bare, with only center Brook Lopez considered a "star" player. New Jersey is going to need a wing who can score, such as Florida's Chandler Parsons. Reviews of Parsons vary, I see him potentially with a game much like Danilo Galinari. Fortunately for the Nets, they have a new arena soon, and cap room to explore free agency.
29. The San Antonio Spurs situation is much like that of the Boston Celtics. The difference? I believe San Antonio has already reached the point of no return (no return to the championship). Manu Ginobili and  especially Tim Duncan are quickly approaching the end. As we saw with this year's edition of the Spurs, its must easier to win in the regular season than it is in a focused, high pressure playoff series. The Spurs need to rebuild now, with their only high market chip guard Tony Parker. Parker has gone as far to say the Spurs are done as we used to know them. Duncan will probably retire a Spur while Ginobili's market value is negligible, due to age. Parker might be well suited for a team that is a solid point guard away, like Portland. Bottom line, Parker needs to be traded soon, preferably before the draft. At the end of the 2011 first round, the Spurs need to take the best player available. Richmond big man Justin Harper may be good value at this spot. A tall (6'10") forward, Harper has great range and has flexibility, but is probably best suited for the three, at least early on in his career.
The Chicago Bulls have a pair of picks at the end of the 1st round (#28 and #30) so we are grouping them together. The second choice comes from Toronto in the James Johnson trade. It was originally owned by Miami, but was sent to Canada as part of the payment for Chris Bosh. We suggest that Chicago take guards with each of the selections. Chicago is a bully up front, led by Joakim Noah, Carlos Boozer and Taj Gibson. Omer Asik, an extremely active seven footer has emerged giving the Bulls of myriad of options in the paint. Every team has a weakness and Chicago is no exception. The Bulls need a scorer to take some pressure off Derek Rose and additional talent on the perimeter. CJ Watson is a capable backup when Rose needs an occasional breather, but an upgrade is in order for Keith Bogans and Ronnie Brewer. We like a pair of combo guards, Duke's Nolan Smith and Butler's Shelvin Mack. Smith has the obvious Duke pedigree and has stepped in as a starter at both point and shooting guard as needed. Mack has been tested on the biggest of stages and would provide the instant scoring the Bulls desperately need.
The NBA draft will take place June 23rd at the Prudential Center in Newark, New Jersey.