Anyone who has played fantasy sports realizes that the draft is just the beginning.    The hardest part is filling a quality roster throughout the season.   Injuries, suspensions, trades, and everything in between can happen during the fantasy season.  It's no wonder that finding the best free agents can be so difficult.
The fantasy assistant now automatically lists the Top 3 Best Free Agents available for your league.  We support NBA, NHL, MLB, and NFL fantasy leagues.  Just sync your league and load the fantasy assistant to see it for yourself.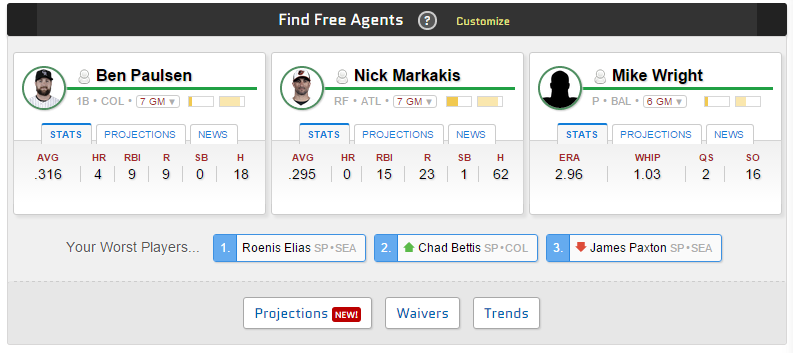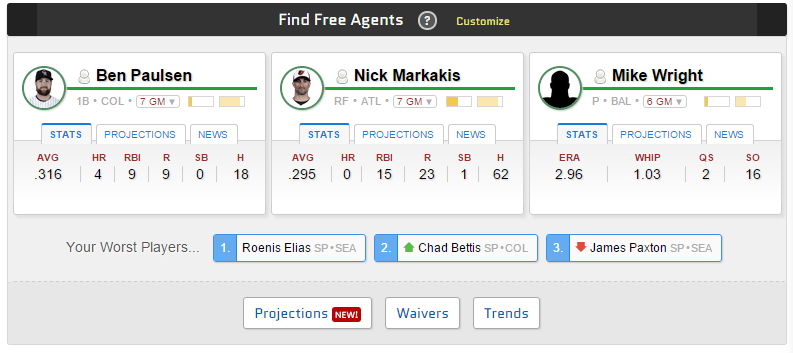 The most important information for each free agent is listed so you don't waste any time searching.  This section lists the Player Overview, Season Stats, Own & Start Percentages, Weekly or Daily Projections, and latest news from around the web.
The Top 3 Free Agents gets updated on a daily basis and the stats listed can be customized based on the categories that your fantasy league finds most important.
As an added bonus, you can also see your team's worst players just underneath the Top 3 Free Agents.  The worst player's on your team should be among the first you drop.
So what are you waiting for?  Jump in and Find Free Agents.