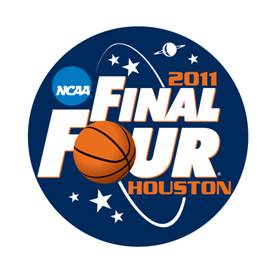 If you are like me, the invites for March Madness brackets are beginning to trickle in.  I have several favorites that I participate in each year, including one with the family. Our family bracket awards the winner with a week free of chores!  If you aren't invited by a friend, just about every sports site has a contest complete with prizes.
How do you fill out your bracket? I usually identify the four teams I feel will make it to the Final Four and fill in the blanks all the way to the national semifinals.  Who will make it to Reliant Stadium in Houston, Texas next month?  We won't know for sure until the tournament Selection Show on Sunday night. Projecting top seeds in advance is tricky business as there is alot of  guess work trying to figure out  which team will end up in each of the four regions. Neverthelss, here are the four teams I like: Florida, Ohio State, Kansas and North Carolina. Defending National Champion Duke may prove me wrong, but repeating is tough  business. My "sleeper" pick for the Final Four is Notre Dame.
The tournament is different this year. There are four first round games, a change from the play in game from 65 team fields in tournament's past.  Now, we have 68 teams and the tournament tips off with the "first four".  Not the throwaway type matchup that didn't even make many brackets in the past, some real meat! Yes, the last four "at large" teams will face off with the two winners advancing, probably against #4 or #5 seeds.  Who might be the "at large" teams? Probably from the group of Virginia Tech, Alabama, Georgia, Michigan State, USC and Colorado. The four lowest ranked automatic qualifiers of the 68 will also meet in the other "first four" games with the winners rewarded with #1 seeds next. The inaugural "first four" takes place Tuesday and Wednesday  in Dayton, Ohio.
When filling out brackets, many look for an "upset special".  That's great if you hit it, but when  you miss, you fall a pick below the rest of the pack. I usually fall victim to picking teams I like (Maryland) or from conferences I enjoy. Best news for me, the Terrapins won't be participating unless they win the ACC tournament. Remember this, a #16 seed has NEVER beaten a #1 seed  since the  tournament expanded to 64 teams. Just how are the teams selected? The NCAA selection committee will be literally locked down in a hotel this weekend ranking the teams from 1-68. 30 bids will be awarded to conference tournament winners and another to the Ivy League regular season champion as they do not hold a tournament. The remaining 37 bids are "at large", many of them going to conference regular season champions on down.
What to watch through the weekend?  By Thursday, all major conference tournaments will be underway. The automatic bids  rewarded to conference tournament winners this weekend, often time are taking away a spot from teams on the "bubble", especially when there are upsets .  What is a "bubble team" you might ask? Those are the teams on the brink of making it… or not.  Who are some of these teams? Baylor, Nebraska, Memphis, Washington State and those mentioned as "first four" game candidates.
College basketball owns March and if you are going to fill out brackets next week, pay attention over the weekend.   Conference tournaments will be won and so will office  pool particpants who are taking notice.