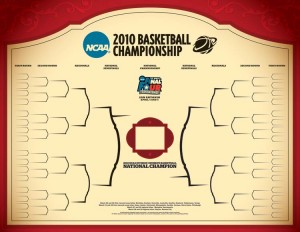 What if College Basketball used RPI in the same way College Football uses the BCS?
For those wondering, RPI stands for Ratings Percentage Index, which is a quantity used to rank teams based on wins, losses and strength of schedule.
The BCS has been under fire since its inception in 1998. Many prefer a playoff system which is used almost exclusively in college sports, except for Division I college football. I thought we should take a look at what Selection Sunday might look like if it was based soley on RPI. The numbers are obviously fluid, as all contenders are currently embroiled in conference tournaments.
It would not be fair to take a look at simply the top 68 as nearly half the bids will go to automatic quaifiers from conference tournaments, most of which never break the RPI elite. For now, lets just look at the projected Sweet 16, based simply on RPI. As a bonus, for fun, potential NBA prospects for the 2011 draft will be noted next to their team to keep your fantasy fire going.
East Regional: Prudential Center,  Newark, NJ
1- Duke– Kylie  Irving PG, Nolan Smith G, Kyle Singler SF, Mason Plumlee PF
2- Brigham Young– Jimmer Fredette SG
3- Wisconsin– Jon Leuer PF, Jordan Taylor PG
4- Georgetown– Austin Freeman SG
Southeast Regional: New Orleans Arena, NOLA
1- Ohio State– Jared Sullinger PF, William Buford SG, David Lighty SG, Deshaun Thomas SF
2- Purdue– JaJuan Johnson PF. E'twaun Moore G
3- Pittsburgh– Brad Wanamaker G
4- Syracuse– Rick Jackson PF, Kris Joseph SF, Fab Melo C
Southwest Regional: Alamodome, San  Antonio, TX
1- Kansas– Marcus Morris SF, Markieff Morris PF,  Thomas Robinson PF, Josh Shelby PG, Tyshawn Taylor PG
2- Notre Dame– Ben Hansbrough G
3- Florida– Chandler Parson SF, Patric Young C, Kenny Boynton JR SG
4- Connecticut– Kemba Walker PG, Alex Oriakhi C
West Regional: Honda Center, Anaheim, California
1- San Diego State– Kawhi Leonard SF
2- North Carolina– Harrison Barnes SF, Tyler Zeller C, Reggie Bullock SF
3- Kentucky– Enes Kanter C (Europe), Terrence Jones SF, Brandon Knight G, Doron Lamb SG
4- Texas– Tristan Thompson PF, Jordan Hamilton SG/SF, Cory Joseph PG
Next week, we will take a look at each of the regions to help you along with your March Madness brackets! Until then, enjoy a GREAT weekend of college basketball!