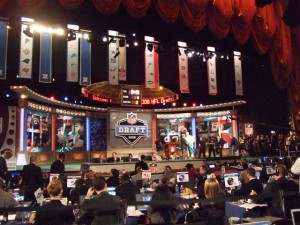 The 2011 NFL draft is finally upon us. With labor strife grinding league activities to a halt, the NFL draft has become even more center stage. No free agency, no trades, no mini-camps, just the draft. Without a doubt, trades will be made tonight, no player trades, not even trades involving selected players, just draft pick for draft pick. Rather than try to project tonight's trades, which would be a shot in the dark, our mock is based on order as of deadline.
FantasySP takes a closer look with our own mock draft of tonight's first round.
1. Carolina (2-14) Cam Newton, QB, Auburn University/ The selection of Newton #1 is the only sure thing tonight. Perhaps the pick gets traded, but #1 overall will be Newton.
2. Denver (4-12) Marcell Dareus, DT, Alabama/ A strong combine and consistency over several seasons vaulted Dareus over previous favorite Nick Fairley.
3. Buffalo (4-12) Von Miller, LB, Texas A&M/ The Bills are considering Blaine Gabbert, but can't pass up the pass rush specialist. Ryan Fitzpatrick has surprised at QB for Buffalo, allowing them to focus on defense.
4. Cincinnati (4-12) AJ Green, WR, Georgia/ Is Terrell Owens done? Is Ocho Cinco going to stick with soccer? Green may be good enough to convince Carson Palmer to return.
5. Arizona (5-11) Blaine Gabbert, QB, Missouri/ This selection changes the remainder of the entire first round. LSU's Patrick Peterson could go here, but if the Cards want Larry Fitzgerald long-term, they need to do this.
6. Cleveland (5-11) Patrick Peterson, CB, LSU/ If Arizona passes on the stud corner, could Cleveland pass? Would team with last years high #1 Joe Haden giving the Browns elite cover corners for a decade.
7. San Francisco (6-10) Prince Amukamara, CB, Nebraska/ Is big, athletic and physical, but cover skills are doubted by some. Even so, a productive corner is hard to pass up, especially at a position of need.
8. Tennessee (6-10) Nick Fairley, DT, Auburn/ Was projected as top overall pick early in the process. The Titans need a quarterback, but have had success with recent defensive selections from Auburn.
9. Dallas (6-10) Tyron Smith, OT, USC/  As usual, Jerry Jones with smoke screens and misdirection on eve of draft. Offensive tackle was only hole entering last season, time to plug it.
10. Washington (6-10) Julio Jones, WR, Alabama/ Skins need a lot, and limited picks = every pick must count. With Santana Moss slowing (and a free agent) and a pair of 2nd round busts at WR several years ago, Jones would become immediate go to guy.
11. Houston (6-10) Robert Quinn, DE, North Carolina/ Everyone's favorite defensive end in the class. Only drawback was the suspension in 2010.
12. Minnesota (6-10) JJ Watt, DE, Wisconsin/ Amazed scouts at the combine. Is big, fast and nasty. Could learn from one of the best already entrenched at right end. With trades right around the corner, the Vikes wait for Donovan McNabb.
13. Detroit (6-10) Cameron Jordan, DE, California/ Another "must have" on the corner. Jordan was a one man wrecking crew for the Golden Bears and climbed even  higher on boards after the combine.
14. St. Louis (7-9) Aldon Smith, DE, Missouri/ The run on ends continue with the versatile Smith. The Rams could use a WR and would take Green or Jones, but need to address defense after a lot of attention to offense in recent drafts.
15. Miami (7-9) Ryan Mallett, QB, Arkansas/ The Dolphins say they need a new running back, but they need a quarterback more. Talk of Mallett slipping to 2nd round or further are ridiculous. Andy Dalton is not near the talent Mallett is.
16. Jacksonville (8-8) Ryan Kerrigan, DE, Purdue/ The run on defensive end's continues with Big Ten defensive lineman of the year Kerrigan. The academic All-American figures to fit much better in a 4-3.
17. New England (14-2) — from Oak Mark Ingram, RB, Alabama/ The Patriots with the first of three picks in the top 33 of the draft. This gift coming from Oakland in the Richard Seymour trade. Think Emmitt Smith with this Heisman Trophy winner.
18. San Diego (9-7) Phil Taylor, DT, Baylor/ Every 3-4 team is yearning for this monster. 6'3″ 335 with decent mobility, perfect fit for the triangle in the middle of the Chargers defense.
19. New York Giants (10-6) Anthony Castonzo, OT.Boston College/One of three offensive tackles projected in the first round, Castonzo could step right in for the G-men. New York thrives on depth and versatility along both lines.
20. Tampa Bay (10-6) Da'Quan Bowers, DE, Clemson/ IF healthy, the steal of the draft. Long considered the top player in the draft, injury has forced Bowers further and further down war room boards. Great addition after two very high defensive line picks a year ago.
21. Kansas City (10-6) Danny Watkins, OL, Baylor/Past high picks Tyson Jackson and Glenn Dorsey would combine for a stout run defense in the 3-4.
22. Indianapolis (10-6) Nate Solder, OT, Colorado/Prototype size, 6'8″ 320, for a tackle. Was selected Big 12 Lineman of the year by conference coaches. Peyton Manning is a happy man tonight.
23. Philadelphia (10-6) Jimmy Smith, CB, Colorado/ Didn't post an interception in 2010, but was only thrown at 20 times. Allowed only one TD in man coverage all season.
24. New Orleans (11-5) Corey Liuget, DT, Illinois/ Intrigues many teams with versatility to perform in 3-4 and 4-3 fronts. Breakout senior season culminating with selection on ESPN All-Bowl team.
25. Seattle (7-9) Jake Locker, QB, Washington/ Perhaps Matt Hasselbeck comes back, but what better long term answer than the homegrown Husky. Charlie Whitehurst is not the  future of the franchise.
26. Baltimore (12-4) Akeem Ayers, LB, UCLA/ Baltimore also considered a wide receiver. Insurance pick for last year's top choice Sergio Kindle.
27. Atlanta (13-3) Mike Pouncey, C, Florida/ The Falcons complete the rebuild of the O-line. High priority to keep Matt Ryan upright and healthy.
28. New England (14-2) Cameron Heyward, DL, Ohio State/ Son of "Iron Head" has a huge upside. Versatile to lineup anywhere along the D-line.
29. Chicago (11-5) Stephen Paea, DT, Oregon State/ A perfect fit as the Bears rebuild the interior of the defensive line. The strongest player in college football.
30. New York Jets (11-5) Marvin Austin, DT, North Carolina/ Time to give up on injury prone interior lineman and take a chance on "marvelous" Marvin. Stock fell due to  2010 suspension.
31. Green Bay (10-6) Adrian Clayborn, DL, Iowa/ The leader of the most talented defensive line in college football. Yet another piece in arguably the best young defense in the NFL.
32. Pittsburgh (12-4) Aaron Williams, CB, Texas/ Steelers brass have let it be known Williams is their's if available at this spot. May fit better at safety.
Tomorrow, we wrap  up the week with a look back at how the first round fared.