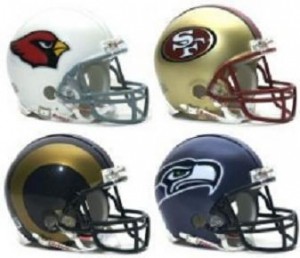 The Arizona Cardinals may have landed the best player in the draft in LSU cornerback Patrick Peterson. A jumbo cover corner at 219 pounds, Peterson may eventually move to free safety. For now, he and Dominique Rodgers-Cromartie may be the best set of young corners in the NFL. Peterson is also an elite kick returner and should elevate the Cards special teams instantly. Virginia Tech running back Ryan Williams is Arizona's latest effort to generate a ground game. Beanie Wells can't shake the injury bug, so the Cardinals were forced to again spend a high pick on the position. Williams is an exciting back, with a great blend of size, strength and speed. The Cardinals were hoping to address quarterback and receiver to pacify Larry Fitzgerald, but settled for tight end Rob Housler. Look for Arizona to make a strong push for Philadelphia QB Kevin Kolb. I like the pair of linebackers that were selected mid draft. Texas' Sam Acho and Quan Sturdivant should add solid depth at the position. Acho will make the conversion from college defensive end to 3-4 outside linebacker, while Sturdivant is a prototype for an inside post.
The St.Louis Rams were eager to add a playmaker at receiver for quarterback Sam Bradford.  With Julio Jones and AJ Green off the board, the Rams couldn't pass on North Carolina's Robert Quinn. Quinn is an excellent pass rusher and should combine with Chris Long to give St.Louis talent on the edge for the  next decade. The Rams then turned their attention to targets for Bradford, picking up a pair of a receivers and a talented tight end in rounds two, three and four. H-Back Lance Hendricks comes from Wisconsin, a talented receiver certain to be utilized by new offensive coordinator Josh McDaniels. Boise State's Austin Pettis and Greg Salas from Hawaii, add solid depth at wide out. Both were very productive college receivers and should eventually move into the top three at the position. While neither will stretch the field, both are effective route runners and along with Hendricks should give Bradford much needed additional targets.
Much like the Rams, the San Franciso 49ers were hoping to address skill positions on offense. Not unlike St.Louis, they found a defender they just couldn't pass up. Missouri's Aldon Smith is a pass rushing specialist with the versatility to play end in a 4-3 or outside linebacker in a 3-4 alignment. New Head Coach Jim Harbaugh hopes he has his quarterback of the future in second round pick Colin Kaepernick of Nevada. Kaepernick has a strong arm, great athleticism and prototype size. Kaepernick is expected to serve as an understudy to Alex Smith as he converts from the pistol formation he mastered in college to Harbaugh's pro style attack. Oklahoma State running back Kendall Hunter appears a perfect fit as a change of pace to Frank Gore. South Carolina defensive back Chris Culliver is an elite athlete and has already been named the Niners nickel back for 2011.
The Seattle Seahawks were one of several teams needing a quarterback in a big way, that didn't select one. Instead new offensive line coach Tom Cable was rewarded with tools in the first two rounds. Alabama tackle James Carpenter and Wisconsin guard John Moffitt will both be expected to challenge for playing time this fall. Both were considered extensive reaches, with Crimson Tide coach Nick Saban even appearing shocked when Carpenter was selected in the first round. Carpenter will be limited to the right side if projected as a tackle, while Moffitt has versatility to play either guard or center. The 'Hawks may have landed a sleeper in Georgia wide receiver Kris Durham in the 4th round. Durham is a huge possession receiver, much like current Seahawk Mike Williams. Durham has decent speed and stepped up nicely for the Dawgs early in 2010 when AJ Green was serving a four game suspension.
Tomorrow we breakdown the AFC East