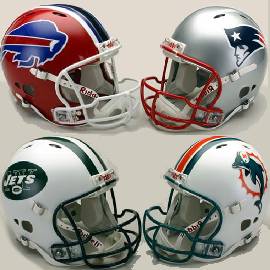 The absolute king of building a champion through the draft resides in the AFC East. The New England Patriots are the blue print that every team should follow. Trading down and sticking with their draft board has kept the Pats young and competitive. New England with another excellent draft in 2011, and have stockpiled extra picks in both the first and second rounds for next year. Ironically, It was the Patriots ending up with quarterback Ryan Mallett after he was rumored to both Buffalo and Miami.
The Buffalo Bills resisted the urge to select their quarterback of the future and selected Alabama defensive lineman Marcel Dareus. Arguably the top talent in the entire draft, Dareus projects as a disruptive force anywhere along the front four. At 320 pounds, Dareus is a prototype 3-4 end. Buffalo addressed every level of its defense, going with Texas corner Aaron Williams in round two and LSU linebacker Kelvin Sheppard in the 3rd. Williams is probably better suited for safety and will see time immediately in both nickel and dime packages. Sheppard was highly productive in a stellar LSU defense and may eventually pair with Paul Poslusny in the center of the Bills defense. While focusing on defense, Buffalo did get a bargain in the 5th round with North Carolina running back Johnny White. White is a heavy-duty back and might be a nice complement to C.J.Spiller.
It almost seems unfair the way the New England Patriots appear to control draft weekend on an annual basis. Bill Belichik has the patience to give up a pick for "next" year and the willingness to trade players that are still productive (Richard Seymour) but nearing the end of their prime. Massive Colorado tackle Nate Solder was the Pats 1st round selection.  Solder is a towering 6'8″ and is not only the future at left tackle, but insurance in case free agent Matt Light departs. In the 2nd round, New England selected Virginia defensive back Ras-I Dowling, a very physical cover corner who could pair with Devin McCourty for years to come. Bilichick does his damage in 2nd and 3rd rounds and had a pair of choices in both. Running backs Shane Vereen from California and LSU's Stevan Ridley bring complimentary skills and add to an area of need. Mallett was projected to many teams, but not necessarily the Patriots. Mallett could learn from the best, or eventually traded, much like they did with Matt Cassel. With so many selections, New England had the luxury to take a chance on TCU offensive lineman Marcus Cannon. The largest quality lineman in the draft at 6'5″ 360 pounds, Cannon was diagnosed with Non-Hodgkins Lymphoma. Cannon is a risk to some extent, but is expected to fully recover.
The New York Jets focused their efforts early on their defensive line. Temple defensive end Muhammad Wilkerson is a stout run stopper and figures to compete at left end. At 6'4″ 315, Wilkerson also has pass rushing skills, setting him apart from other 3-4 college ends. The Jets went even bigger in the 2nd round with Hampton nose tackle Kenrick Ellis. At 6'5″ 350, Ellis not only plugs the middle, but gets a nice push on passing downs. Like Wilkerson, Ellis has run stopping size, but versatility and the ability to rush the passer. Louisville's Bilal Powell is a solid inside runner and effective pass blocker. The Jets are stacked at running back so the 4th round pick may have to beat out Joe McKnight to stick. Staying with tradition, the Jets took an Alabama quarterback that wore the number 12. Yes, Greg McElroy, the Wonderlic champion, follows in the footsteps of Richard Todd and Joe Namath.
The Miami Dolphins were without several mid-round selections, but were solid at the top of the draft. Center Mike Pouncey out of Florida, looks to follow in his twin brother's footsteps. Brother Maurkice turned out to be a gem for the Steelers, landing in the Pro Bowl. The 'phins have already named Pouncey as their starting center. Miami was thought to be looking quarterback in the draft, however they failed to select a signal caller. Running back also appears to be in flux, as its unknown if either Ricky Williams or Ronnie Brown will be brought back. As insurance, the Dolphins took Kansas State's Daniel Thomas in the 2nd round. A big back with great feet, Thomas has a chance to be the starter in week one.
Our draft reviews resume on Monday with the AFC North