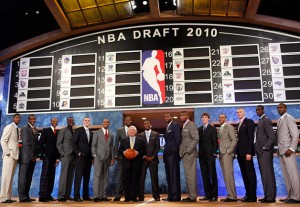 Three, maybe four teams will head into the offseason with hope, following tonight's NBA draft lottery.
A surprising number of talented underclassman opting to return to college for another season, leaving the draft thin at the top. It's a bit of an unknown why so many opted out of the draft, most point to uncertainty in NBA labor relations.
Even though the talent level drops off after an elite few, the draft remains deep overall. Mock drafts indicate some solid talent into the second round, not franchise changing, but certainly  effective role players.
Draft Lottery participants (with % chances of 1st pick)
Minnesota Timberwolves 25.0%
Cleveland Cavaliers 19.9%
Toronto Raptors 15.6%
Washington Wizards 11.9%
Sacramento Kings 7.6%
Utah Jazz (from New Jersey Nets) 7.5%
Detroit Pistons 4.3%
Cleveland Cavaliers (from LA Clippers) 2.8%
Charlotte Hornets 1.7%
Milwaukee Bucks 1.1%
Golden State Warriors 0.8%
Utah Jazz 0.7%
Phoenix Suns 0.6%
Houston Rockets 0.5%
With fourteen teams taking part in the lottery, we thought we would give you a look at players that are likely atop draft boards.
G Kyrie Irving– Could be the #1 overall pick no matter which team wins the lottery
F Derrick Williams– NBA ready player would be perfect fit for Washington Wizards
C Enes Kanter– Best low post anchor, spent time in Europe after delcared ineligible at Kentucky
G Brandon Knight– Next in line of Calipari point guard after Derek Rose and John Wall
F Jan Vesely– Towering small forward, nearly 7'0″ with good shooting range
G Kemba Walker– Exciting point for a guard driven league coming off national title
F Jonas Valanciunas– Lithiuanian big man thought to have biggest upside of all Euros
F Kawhi Leonard– True small forward has increased value by improving his perimeter game
G Jimmer Fredette– LONG range shooter will be a fan favorite no matter where he lands
G Alec Burks– Best shooting guard in the field, more of a creator/scorer than shooter
F Tristan Thompson– Only 6'8, projects at power forward with 7'2″ wingspan and athleticism
F Jordan Hamilton– Swing man is big time scorer, much better catch and shoot than off dribble
C Donatas Motiejunas– Seven footer has adept post game but needs work on rebounding and defense
F Kenneth Faried– Top rebounder in the draft exploded on the scene in the 2011 tournament
The lottery will take place during halftime of game one of the Western Conference finals tonight between the Dallas Mavericks and Oklahoma City Thunder. The 2011 NBA draft will be held on Tuesday, June 23rd at the Prudential Center in Newark, NJ.