The Fantasy Feed is the single best way to keep track of your fantasy team and league.  The feed consists of various Cards that show important events that we feel you should know about. All of this information is broken down chronologically.
(The example below is for baseball, but we apply the same method to the NBA, NHL, and NFL.)
Think of it as a Facebook Feed, except for your fantasy team.  And yes, it is available on both or desktop site and mobile site.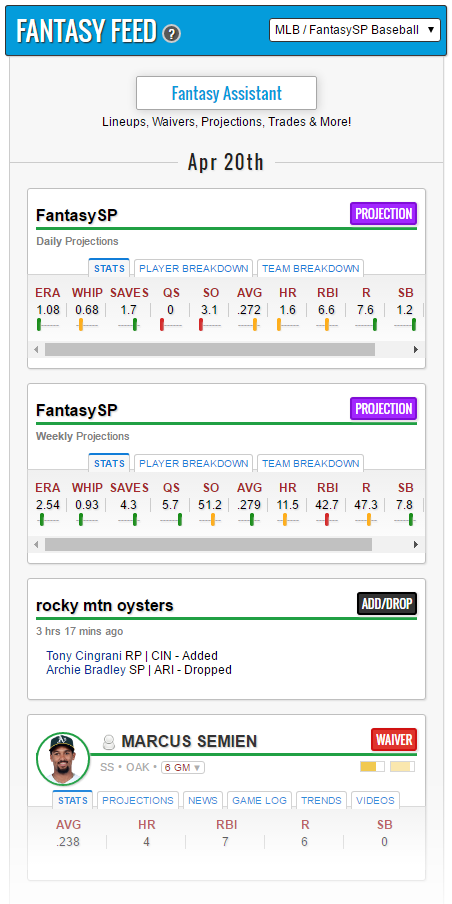 Above is an example of what you'll see, but you can also see a bigger version of it to see more examples of different Cards that come up.
Projection Cards
As I mentioned earlier, there are various types of News Cards that are shown.  One of the most important is the Projections Card (shown above).  It will project stats across various categories in your fantasy league.
The small line graph underneath each category shows where your team will fall in comparison to the rest of your league.  So if you look at the ERA in the Weekly Projection Card, you'll notice that it is 2.54 and is among the best for the week.
On the flipside, you'll notice that the RBI category is in red, which means I am not projected to do as well as other teams with 42.7 this week.
To see a more in-depth breakdown of the Projection Card, simply click on the Player Breakdown (to see your players) or Team Breakdown (to see other teams).
Other News Cards
There is A LOT of vital information on these Player Cards and we have a lot of different types.
You can see from the above example that the Waiver Card shows in depth information about a potential free agent in your fantasy league that we feel you should know about. We show you his Stats, Projections, Game Log, Own/Start trends, News, and even videos.
The full listing of News Cards include:
Projections (Weekly and Daily)
Stat Summary, showing a breakdown of yesterday's stats
Player Alerts, showing important news for one of your players and potential waiver wire pickups
Hot/Cold, showing players who just became hot or cold
Transactions, showing the latest add/drops in your league
OWN Trends, showing significant drop or add trends for players you own
Wrap Up
The best way to see how useful and cool the Fantasy Feed is to try it out for yourself.  Sign Up for FantasySP if you haven't already, and then sync your fantasy league. It's completely free to try out.
We will automatically apply your league settings during the sync process for Yahoo, CBS, and ESPN leagues.  So go ahead and give it a shot.
The Fantasy Feed will provide different insights into your team that you haven't seen before and it is a great compliment to our Fantasy Assistant, which helps you figure out optimal lineups, waivers, and lots more.
As an added bonus, here is what the Fantasy Feed might look like on our Mobile Site.