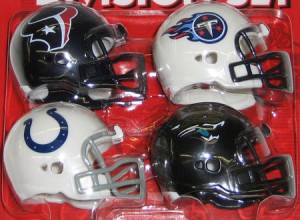 Our review of the AFC South begins in Jacksonville, where the Jaguars identified the future face of their franchise and made a move to get him.  The Jags making a move for Missouri quarterback Blaine Gabbert. With David Garrard still on board, Gabbert will have the luxury of watching and learning without having to be force-fed. Gabbert will also benefit with a Pro Bowl running back along side and a serviceable offensive line. Lehigh guard Will Rackley, the Jags 3rd round pick, has versatility to play anywhere along the line. Jacksonville stayed small school in the 4th round with Mount Union wide receiver Cecil Shorts. A real area of need, Shorts will not only compete for a starting job at receiver, he is reliable on special teams.
The Houston Texans were pretty much guaranteed to be looking corner in the 1st round, but surprised many by taking Wisconsin defensive lineman J.J.Watt. The Texans like Watt so much they are exploring a move of All Pro defensive end Mario Williams from end to outside linebacker. Pass rush was the focus atop the draft with Arizona edge rusher Brooks Reed the selection in round two. An end in college, Reed projects as an OLB in the Texans new 3-4 alignment. Houston did get its cover corner, but waited until round two to do so, landing Miami's Brandon Harris. Houston with great value and another corner in round 4 with Rashad Carmichael from Virginia Tech. A developmental quarterback in North Carolina's T.J.Yates came in round five.
As Peyton Manning continues to age, it becomes more and more important for the Indianapolis Colts to provide excellent protection up front. Massive offensive tackle Anthony Castonzo, 6'7″ 315, comes via Boston College and will eventually be tasked with protecting Manning's blind side. In the 2nd round, the Colts stayed with big uglies getting Villanova lineman Ben Ijalana. Ijalana has the versatility to play inside or outside. Indy with an absolute steal in the 3rd round, getting LSU defensive tackle Drake Nevis. Nevis is an ideal fit for the Colts one gap scheme. Nevis' interior penetration reminds me of Nick Fairley lite. In the 4th round, the Colts added another running back to a very crowded, competitive situation. Delone Carter from Syracuse is a load at 5'9 225 pounds.
The biggest surprise of the first round was the Titans selection of Washington quarterback Jake Locker. It was no surprise that Tennessee selected a quarterback, just that Locker was selected with Gabbert still on the board. The Titans bolstered their defense in the 2nd and 3rd rounds with UCLA linebacker Akeem Ayers and  USC defensive tackle Jurrell Casey. It would have come to no surprise had both been selected much higher in the draft. Tennessee focused on selected productive players at big time programs, Miami linebacker Colin McCarthy, Clemson fullback Jamie Harper and Auburn defensive lineman Zach Clayton all fit the bill.
We wrap up our previews tomorrow with a look at the AFC West