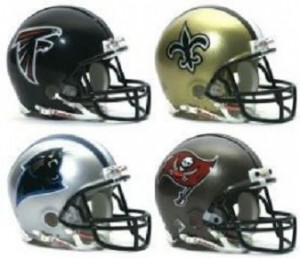 No division in the NFL made more of a splash in the draft than the NFC South. Each of the four teams making selections that may have a huge impact. Atlanta with a big move up in the 1st round, New Orleans trading for an additional first round pick, Tampa Bay taking a high risk/high reward pick and of course Carolina picking number one overall.
We start with Atlanta, the elite team in the NFC South. Feeling they are close to an NFC crown, the Falcons traded multiple picks to move up to number six and grab Alabama wide receiver Julio Jones. Jones will provide another big time target for quarterback Matt Ryan and might relieve the double teaming of Roddy White. Atlanta used its fifth round pick to select Oregon State running back Jacquizz Rodgers. Rodgers was highly productive in college and will be a nice change of pace to bruiser Michael Turner. The Falcons addressed defense with a pair of local stars. Georgia linebacker Akeem Dent and South Carolina defensive end Cliff Matthews are both very capable of making the roster.
A year removed from a Super Bowl victory, the Saints were aggressive, trading multiple picks to acquire an additional first round selection. New Orleans first addressed defense with California defensive end Cameron Jordan. Jordan is stout against the run and may push for the starting job at left end. Four picks later, New Orleans took the best running back in the draft, Alabama's Mark Ingram. Comparisons to Emmitt Smith are valid, Ingram is ideal for 1st and 2nd down between the tackles. If  Reggie Bush's ego can be soothed, it might make for a lethal combination in the Saints backfield.
Carolina had the number one selection and to no surprise took Auburn  quarterback Cam Newton. Newton is a lightning rod for criticism, but arrives with off the chart combine measurables.  Newton's Heisman Trophy was well deserved as his passing and rushing numbers are among the best in the history of the game. The Panthers added several late round selections which may surprise. In the 5th round, the Panthers picked Hawaii receiver Kealoha Pilares who is tough and reliable over the middle. In the seventh round, great value in Auburn offensive tackle Lee Ziemba. Ziemba started for four seasons at left tackle, but projects at right tackle at this level.
Tampa Bay had defensive focus atop its draft board. Adrian Clayborn, the best of a great Iowa defensive line, was the Bucs first round  selection. He should start at end immediately. In the second, the Buccaneers took a gamble on Clemson defensive end Da'Quan Bowers. Just a few months ago, Bowers was mentioned by some as a potential  first overall pick. A serious injury scared many, some even removing Bowers from their draft boards. A year ago Tampa hit the jackpot with defensive tackles Gerald McCoy and Brian Price. With 1st and 2nd round selections in successive years on the defensive line, the buccaneers feel they may now have the pass rush to excel in the Tampa Cover 2 defense. If Bowers is healthy, watch out! The Bucs addressed a need at tight end selecting Luke Stocker from Tennessee. Some have compared him to former Vol Jason Witten.
Tomorrow we look at the NFC West