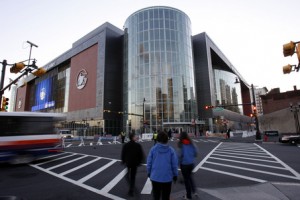 Without a doubt, the East is the toughest bracket, surprising since its where #1 overall seed Ohio State resides.
Opening round games take place in Cleveland, Tampa and Charlotte with the regional finals in Newark.
Parity is the word in the 2011 tournament, which explains why many of the  6-11, 7-10 and 8-9 games are virtual pick 'ems in Vegas.
First round matchups:
#1 Ohio State vs Play In– Ohio State will "tatoo" their yet to be determined opponent.
#8 George Mason vs #9 Villanova– Arguably best 1st round matchup, GMU is pick here as Villanova continues slide.  The Wildcats lost ten of fifteen down the stretch.
#5 West Va vs Play In– West Virginia a lock for 2nd round.
#4 Kentucky vs #13 Princeton– Discipline vs Athleticism, UK pulls away  in 2nd half.  The buzzer beater over Harvard will seem a distant memory after the beat down by the 'cats.
#6 Xavier vs #11 Marquette– Super sleeper Xavier should prevail vs Big East tested Marquette.  The Golden Eagles led the Big East in scoring, but Xavier is more physical and will own the boards.
#3 Syracuse vs #14 Indiana State– Orangemen with pass to 2nd round. Sycamores are very deep but also very small.
#7 Washington vs #10 Georgia- Washington has experience (Sweet 16 appearance a year ago) but UGA has size and athleticism, Dawgs upset Huskies.
#2 UNC vs # 15 Long Island– Cinderella story doesn't last long vs Tar Heels.
2nd round projections:
#1 Ohio State vs #8 George Mason– Upset Alert! Do the Patriots have what it takes to make another magical run to the Final Four? Absolutely,  the inside outside duo of Cam Long and Ryan Pearson led GMU on a sixteen game regular season win streak and have what it takes to shock the #1 overall seed.
#4 Kentucky vs #5 West Virginia– Underachieving Lexington kids bounced by Huggins' crew. The Mountaineers who beat Notre Dame, Georgetown and Purdue during the regular season add another giant to their resume.
#3 Syracuse vs #6 Xavier– Orange zone shuts down X inside game.  Syracuse won 18 straight to start the season and get it done with defense. Orange opponents were held under 60 points eighteen times this season.
#2 UNC vs #10 Georgia– Tar Heels too much to handle for inconsistent UGA. Freshman Harrison Barnes and Kendall Marshall have keyed the Heels resurgence from early season struggles.
Regional Semi-Finals:
#5 West Virginia vs #8 George Mason– This one is actually a toss up in my mind with slight edge to the Mountaineers.  WVU is deadly from deep perimeter and tested from last season's run to the Final Four.
#2 UNC vs #3 Syracuse– Two of my favorites going into the tourney, going to go with emerging freshman 5-star center Fab Melo and the 'cuse.  Orange have been on a mission since last season's regional semi loss to Cinderela Butler.
East Regional Final:
#3 Syracuse vs #5 West Virginia– On to the Final Four for Jim Boeheim, love that zone defense!  'Cuse depth too much for Mountaineers who are not as deep as last year's Final Four team.
Tomorrow, we will take a look at the Southeast regional.