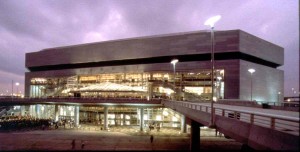 The SouthEast Regional will culminate with the finals at the New Orleans Arena. Early round games will take place in Washington DC, Tuscon, Tampa and Denver.
While the Eastern Regional is without a doubt the strongest, the SouthEast Regional is by far the weakest. Pittsburgh was a suprising top seed after faltering in the Big East tournament, Florida despite closing strong perhaps a bit high as a #2. It doesn't end there, Brigham Young despite All-Everything Jimmer Fredette is not the same team after losing big man Brandon Davies to suspension and #4 Wisconsin doesn't strike fear in the hearts of the nation's elite.
Lets take a look at your bracket: (upsets in italics)
1st Round:
#1 Pittsburgh over Play In (TBA)- As is well documented a #1 seed has never lost to a #16 and this is a perfect example of why.  UNC-Asheville/Little Rock winner will be Panther meat.
#2 Florida over #15 UCSB- The Gators are one of my sleepers, clicking at right time UF may be Final Four bound. The Gauchos who upset Long Beach State to quaify= one and done.
#3 BYU over #14 Wofford- Cougars are not what they were, but Jimmer is too much for Wofford. The "Minnesota Mafia" closed strong and have senior leadership, but c'mon Fredette isn't going out in 1st round.
#13 Belmont over #4 Wisconsin– UPSET ALERT Tough draw for Badgers, Belmont is the real deal!  The Badgers 33 points and  <30% shooting from the floor in Big 10 tourney loss to Penn State cannot be overlooked.
#5 Kansas State over #12 Utah State- Love the Wildcats, if they are on watch out!  Aggies in tourney for 3rd straight year, but veterans don't have size to deal with the Wildcats.
#6 St. Johns over #11 Gonzaga- Great 1st round matchup, gotta go with Steve Lavin here. The Bulldogs dancing for 13th straight season, four times in the Sweet 16, not this time.
#10 Michigan State over #7 UCLA– Spartans were pre season Final Four favorite, expect them to step it up. Having a hard time forgetting the Bruins blowout loss to Oregon in Pac 10 tourney opener.
#9 Old Dominion over #8 Butler– Another great opening round matchup, no Cinderella this time around. The Bulldogs dancing for the 5th straight year aren't the same team that lost to Duke  in finals a year ago.
2nd Round:
#1 Pittsburgh over #9 Old Dominion- Panthers are a deep, physical team that relies on defense and rebounding.  The Monarchs have similar strengths but not enough.
#2 Florida over #10 Michigan State- The Gators were one of the hottest teams down the stretch and look to rebound after a 1st round exit a year ago.  All five starters returned from a year ago and UF's only potential achilles heel is free throw shooting.
#6 St. Johns over #3 BYU– The Red Storm has 10 seniors and is battle tested with a plethora of close wins in Big East play.  St. Johns beat Duke, Notre Dame and Pitt this season, but the injury to DJ Kennedy cannot be overlooked.
#5 Kansas State over #13 Belmont- Its the Jacob Pullen show in Manhattan.  K-State with marquee wins over Texas and Kansas but are inconsistent at times, especially shooting the ball. This may be a close one as Belmont is the sleeper of the tourney.
Southest Semfinals:
#5 Kansas State over #1 Pittsburgh– UPSET ALERT I am going to go with the upside of K-State.  Pullen, the Big12 defensive player of the year is also a big time scorer. 6'8″ senior forward Curtis Kelly adds a nice option for Wildcat coach Frank Martin.
#2 Florida over #6 St. Johns- I am having difficulty with this matchup as they are two clubs that I really like to go deep in tournament. The difference in the end may be the absence of injured Red Storm swingman Kennedy.
Southeast Final:
#2 Florida over #5 Kansas State- If Pittsburgh does in fact go down early, its all Florida. The Gators are led by tournament tested coach Billy Donovan and the senior frontcourt.  SEC player of the year Chandler Parsons may lead them back in the Final Four.
Tomorrow we will handicap the Southwest Regional.