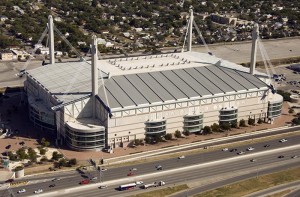 Headlining the South West region are top seed Kansas and #2 Notre Dame. The Jayhawks have  much to prove after falling in 2nd round a year ago to Northern Iowa.  The 16th and final spot in the South West region will be decided tonight as Southern California takes on Virginia Commonwealth in Dayton, Ohio in a "First Four" play in game*. The South West Final Four representative will be decided at the Alamodome in San Antonio, Texas. Early round games take place in Chicago, Tulsa and Denver.
1st round:
#1 Kansas over #16 Boston University– KU rolls into its 22nd straight tournament coming off their seventh straight Big 12 crown.
#2 Notre Dame over #15 Akron– Irish proved they were for real with the win at Pittsburgh.
#3 Purdue over #14 St.Peters– Solid season for the Boilermakers led by Big 10 player of the year JaJuan Johnson.
#4 Louisville over #13 Moorehead State– Louisville has its hands full with Kenneth Faried who led the nation in rebounding and field goal percentage.
#12 Richmond over # 5 Vanderbilt– UPSET ALERT The Spiders Princeton offense give the Commodores fits.
#6 Georgetown over *Play In– Hoyas get point guard Chris Wright back from wrist injury who makes them click.
#10 Florida State over #7 Texas A&M– Seminoles bolstered by Chris Singleton's return from injury.
#9 Illinois over #8 UNLV– Lon Kruger falls to his former team. The defensive minded Runnin Rebels just don't have enough offense.
2nd round:
#1 Kansas over #9 Illinois– Bill Self defeats his former team. The Illini seemed headed for big things after wins over UNC and Gonzaga before the New Year, but went 11-12 rest of way.
#2 Notre Dame over #10 Florida State– Big East Player of the Year Ben Hansbrough leads the senior laden Irish.
#6 Georgetown over #3 Purdue– UPSET ALERT Might have been different had the Boilermakers had injured star Robbie  Hummel.
#4 Louisville over #12 Richmond– The one-two punch of Kevin Anderson and Justin Harper get the Spiders into second round, but Cardinals have way too much depth.
SW Semfinals:
#4 Louisville over #1 Kansas– UPSET ALERT Louisville can beat anyone on a given night, with signature wins over Notre Dame, Pittsburgh and Connecticut. Streaky three point shooting, depth and defense get it done for Rick Pitino.
#2 Notre Dame over #6 Georgetown- The Irish can score with anyone, ask Villanova about the 25 three pointers the Irish rained down on them. Notre Dame is deep, can play defense and is clutch in close games.
SW Final:
#2 Notre Dame over #4 Louisville– The Irish return to the Final Four for only the second time, the first since the Digger Phelps era.