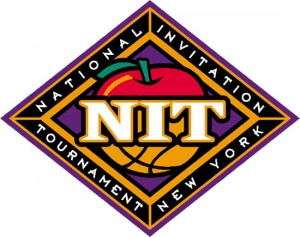 For those of you that are unaware, the National Invitational Tournament (NIT) used to be the post season event for college basketball. The NIT has both pre and post season events. The pre-season NIT takes place in November and features some of the elite teams tipping off a new season. The post season event now features a mixture of those that don't get invited to the Big Dance. A major difference in this event is that all games leading up to  the Final Four are held on campuses of participating teams. The final four is always held at Madison Square Garden in New York City. OK, lesson over, you may now impress your  friends with the details.
NIT teams enter with different frames of mind. Some are happy to be there with any post season play considered a success, while others come in flat, disappointed and feeling disrespeted by the NCAA selection committee. Much like bowl games in college football, an extension of the season can be a good chance to take a look at young players and/or potential new starters for next season.
This years tournament featured two teams that many felt deserved to be in the Big Dance, Virginia Tech and Colorado. Hokie fans targeted Virginia Commonwealth as a team that was less deserving a spot, and let it be known. Top seeded Tech was an easy winner over Bethune Cookman in the opening round, but were shock(ers)ed by Wichita State in round two. We all know how VCU has capitalized on its chance. More on the Colorado Buffaloes in a bit.
I'll take this opportunity to note an omission in the NIT field. For the first time in 18 seasons the University of Maryland Terrapins are not participating in a post season tournament. With future Hall of Fame coach Gary Williams and an elite facility in the Comcast Center, the Terps should have easily been part of the 32 team field.  Why was Maryland left out? It was simply a numbers game. The NIT took 14 conference champions that were left out, up from eight a year ago. Even so, having a coach approaching 700 career wins and a recent National Champion, is all the reason to include Maryland. The Terps had narrow losses this season to tournament teams like Pittsburgh, Illinois, Temple, Villanova, UNC and Duke twice, including the ACC tournament. Just a few short weeks ago, the Terps pounded Sweet Sixteen member Florida State. With 19 wins, including tournament types in Penn State and Clemson, Maryland is a "name" program that the NIT needed to stay on the basketball "radar". The Terps will be back, in the big Dance, next season, write it down!
The NIT 32 team field has been narrowed down to the quarterfinals, which begin tonight. (all times EST)
Tonight (Tuesday)
#7 Kent State @ #1 Colorado (ESPN @ 9pm)- The top seeded Buffaloes were shocked to be left out when tournament pairings were announced two Sunday's ago. Colorado defeated Missouri, Texas and Kansas State three times this season. CU is led by Alec Burks, one of the top guards in the nation that many haven't seen. The Buffs have made the most of their predicament and  should advance to the semifinals easily with a win over Kent State at the Coors Events Center.
Tomorrow (Wednesday)
#6 College of Charleston @ #4 Wichita State(ESPN2 @7pm)- One of my favorite all-time coaches in this one, Bobby Cremins. The Cougars are a gem of a program, nestled away in beautiful, historic Charleston. Cougar guard Andrew Goudelock may be the best player in the history of the program. CoC will have a battle on its hands in Wichita as the Shockers looked good in the upset of Virginia Tech.
#2 Miami(FL) @ #1 Alabama(ESPN2 @9pm)- Two elite programs out to prove they belonged with the big boys. Bama was a 'bubble" team for what seemed like months after a weak non conference  schedule. Many in the program could not believe they were passed over by rival Georgia. Keep an eye on Alabama big man JaMychal Green, one of the best in the country. The U is another example of what may turn out to be the underrated Atlantic Coast Conference.
#4 Northwestern @ #2 Washington State (ESPN2 @ 11pm)- The Wildcats upset top seed Boston College to get here. Northwestern closed strong taking #1 Ohio State to overtime in the Big 10 tournament. Washington State has held serve and was impressive in 2nd round match win over Oklahoma State. The Cougars feature the Pac-10's leading scorer, guard Klay Thompson.
Tuesday (March 29th)
Final Four (ESPN2 @ 7 & 9pm)
Thursday (March 31st)
Championship (ESPN2 @ 7pm)