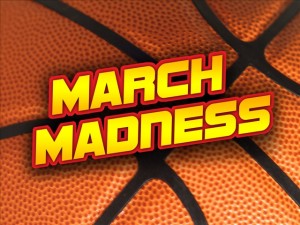 Random thoughts….. Has Gus Johnson announced every game so far? Seems like it…. I absolutely loved having the option to watch any game, all of it,  without someone else controlling my remote!  The live look-in's are fine, but just like any other game in another other sport, once it starts, I want the option to watch it in its entirety- success. Despite some negative reviews, I enjoyed the First Four. The 64 vs 65 play-in game of recent years was a faliure, now we get some meat with those "last four in" majors going head to head.
Lets take a look at the winners. Obviously Richmond with two teams in the sweet 16 is in heaven. 11 seed VCU has roared to the Sweet Sixteen with convincing wins over USC, Georgetown and Purdue, no easy task. #12 Richmond also impressive, shocking Louisville out of the gate, then beating sleeper favorite Moorehead State. The ACC is also holding its head high this week After a "down" season, three of the four are still alive in Duke, North Carolina and Florida State.  The Seminoles very impressive in the upset of #2 Notre Dame.  Hats off to the Mountain West, #2 San Diego State and #3 BYU very much alive to keep run going. Lastly, Butler, last season's Cinderella is at it again. The Bulldogs surviving last second wins against both Old Dominion and #1 Pittsburgh.
We need to start in the Big East when discussing the losers thus far. Yes, the city of Richmond  has as many teams left as the mighty Big East. Eleven teams began the tournament, the lowest seed of them all, Marquette, is still alive. Some credit must be given I assume to #3 Syracuse and Cincinnati who fell to conference mates. Expectations were not high for the Pac-1012, but they are very fortunate that Arizona survives for another day. The Big 12 can't feel good about things, #1 seed Kansas has advanced, but lets face it, their path is nowhere near what teams face in the East Regional.
While I don't believe player performance in post season play can severely cripple value, it certainly can be enhanced. Example, Butler forward Gordon Hayward a year ago. Drafted in the 1st round by Utah, not a chance that happens without Butler's run to the title game. Arizona forward Derek Williams' stock continues to sky rocket. An athletic, versatile power forward, Williams has added an effective perimeter game and would be worthy  of the #1 overall pick. Duke guard Kyrie Irving gambled a bit by returning from injury, if he helps the Blue Devils to Houston, he could also  be #1 overall. Two mid major stars BYU's Jimmer Fredette and San Diego State's Kawhi Leonard are also on the rise due to strong play against major competition. One player who could have improved his draft stock was Notre Dame guard Ben Hansbrough.  Projected as a late 2nd round pick at best, The Big East player off the year could have enhanced his status, but the Irish 2nd round defeat didn't help.
Sweet 16 on the tube
Thursday–
715pm San Diego State vs Connecticut (CBS)
727pm Florida vs Brigham Young (TBS)
945pm Duke vs Arizona (CBS)
957pm Wisconsin vs Butler (TBS)
Friday-
715pm UNC vs Syracuse (CBS)
727pm Kansas vs Richmond (TBS)
945pm Ohio St vs Kentucky (CBS)
957pm Florida St vs VCU (TBS)