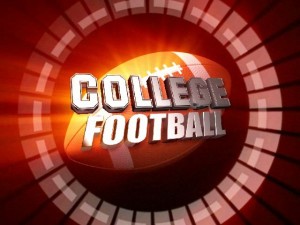 College football fans get a brief respite this month with spring practice across the nation. College football popularity in America trails only the NFL, and with the labor strife in the pro ranks, guess what may move to #1. Many questions face elite teams as they move towards the 2011 season, FantasySP takes a look at some of them, in no particular order.
Lots of change at Alabama– The most high profile story will be the battle to replace departed quarterback Greg McElroy. A.J. McCarron with the edge over Phillip Simms, two very highly recruited signal callers. Trent Richardson should step in to replace Mark Ingram, but fellow early departees Julio Jones and Marcel Dareus will be much harder shoes to fill. Anything short of a national championship will be considered failure in Tuscaloosa.
Will Notre Dame make another step towards a return to the elite?- The Fighting Irish got off to a very bad start with All American receiver Michael Floyd suspended from the team indefinitely for a violation of team rules. Quarterback Dayne Crist returns from injury and should recapture the starting job from sophomore Tommy Rees who was a pleasant surprise. Notre Dame's incoming defensive line prospects may be the most touted in school history (and much needed).
Will Stanford's Luck continue without Harbaugh?- Cardinal quarterback Andrew Luck surprised many by putting  the NFL on hold, despite being the probable #1 overall pick. Can Stanford continue the upward tick without the relentless Jim Harbaugh? Protection of Luck will be a huge factor as most of the offensive line must be replaced. The offense will remain balanced with  junior running back Stephan Taylor, the real deal. The Cardinal beat down of Virginia Tech in the Orange Bowl was the best performance of any team in the post season.
Will USC rebound before sanctions finally hit?- Lane Kiffin is stockpiling, bracing for the inevitable scholarship limitations to hit. Eight early enrollees and  another consensus top 5 class will help ease the pain. Junior Matt Barkley returns for a third season starting at quarterback and can  keep the Trojans in any game. If Southern Cal is to win though, major improvements must come on the defensive side of the ball where they have been traditionally dominant.
Can Ohio State survive early schedule without Tressel and Pryor?- With Terrelle Pyor suspended for the first five games, true freshman Braxton Miller will get a crash course to prepare. With Miami(Fl) and Michigan State the only true challenges in those first five weeks, the real question will be how the Buckeyes perform without sweater vest. Pryor isn't the only skill player that will sit out, running back Dan (Boom) Herron and receiver DeVier Posey will also be absent on game day. The good news, Tressel and the suspended players will be able to participate in all activities, including practice, during the suspension.
Michgan returns to smash mouth with Rich Rod finally gone?- The long anticipated firing of Rich Rodriguez mercifully came to fruition in January. The Wolverines wanted Jim Harbaugh to come home, but settled for Brady Hoke. With Michigan promising a return to smash mouth, what does that mean for quarterback Denard Robinson? Embattled defensive coordinator Greg Robinson is also gone, replaced by former Baltimore Ravens assistant Greg Mattison. With nine starters returning on  offense, fixing the porous defense will be the key to the  Wolverines return to respectability.
Urban Meyer gone (again) will Muschamp bring Gators back?- Urban Meyer is gone again, supposedly to spend more time with his family. I guess his family has moved from Gainesville to Bristol, Connecticut because that's where the legend has been spending his time. Will Muschamp steps in, abandoning the coach in waiting  position in Austin. The Tebow offense is gone thanks to new coordinator Charlie Weis. Good news for John Brantley, not so good for Trey Burton and Jordan Reed. Corner Janoris Jenkins reversing his decision to leave early was huge for the Gators defense. Jeff Driskel will get his feet wet as the eventual (2012) replacement for Brantley under center.
Can Oregon return to title game?- Believe it or not, the Ducks could be even betteron offense in 2011. Quarterback Darron Thomas returns, as do running backs LaMichael James and Kenjon Barner. If that's not enough, red shirt freshman Lache Seastrunk and true freshman De'Athony (Black Mamba) Thomas debut. The nation's top kick returner, Cliff Harris, returns and should have plenty of competition from a bevy of elite athletes. The Ducks have lots of work to do replacing lineman on both sides of the ball, but expect Oregon to light up the scoreboard again this season.
How far will Auburn fall with so many players lost?- Never before has a national championship team had to replace so many players. In fact, Auburn has fewer starters returning than anyteam in Division 1. Not only did Auburn lose its largest senior class in school history, but Cam Newton, Nick Fairley and Darvin Adams departed early for the NFL.  But there's more, Auburn loses five players to disciplinary reasons. When its all said and done, nearly forty percent of the entire 2010 roster is gone. The Tigers get Florida and Alabama at home, but have a brutal road schedule, @ Clemson, @Arkansas, @ LSU, @ Georgia and @ South Carolina.
Were the 2010 Longhorns an abberation?- Wow, what a disaster 2010 brought University of Texas football. Arguably the most consistently elite team in college football, the Longhorns were embarrassing last season. Coach in waiting Will Muschamp is gone, along four other assistants. After getting a rude initiation in the 2009 national title game, all indications were the beginning of a long career for quaterback Garrett Gilbert. Not so fast my friend! We're told the position is an open battle, with a group of candidates, including Colt's little brother Case McCoy. The good news?  A huge contract with ESPN for the Longhorn network, Texas sports 24-7!
Is this the last season for Joe Paterno in Happy Valley?- Joe Paw returns to guide Penn State in the final season of his currrent contact, even so, he has given no indication of a retirement date. This is bad news for the NittanyLions as his uncertain future continues to hamper recruiting. Why? Recruits want to know the coach that brings them in will be there for their entire stay. That's a question that nobody, including Coach Paterno can answer.  There are many other questions, the most pressing remaining at quarterback. Running back Evan Royster is off to the NFL and although he struggled at best in 2010, he had been a consistent source of offense since his freshman year.
Is Florida State about to come all the way back?- We are now a year removed from Bobby Bowden's unceremonious removal from the Seminole sidelines. The 'Noles showed improvement under former coach in waiting Jimbo Fisher, but fell flat against Virginia Tech in the ACC title game. Quarterback Christian Ponder is turning pro and FSU is hoping long time prospect E.J.Manuel can step up. Offensive line and safety are the only positions that stand in the way of Florida State representing the Atlantic Coast Conference in the Orange Bowl. An absolute stud 2011 recruiting class should help them arrive.