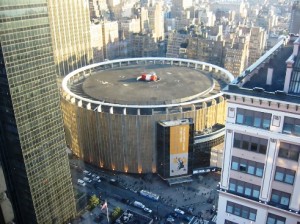 Were you aware that there 140 teams played in post season basketball tournaments this month? You know about the NCAA tournament, commonly referred to as "March Madness. And you even know about the NIT which has been where teams that miss out on the main tourney play as a consolation.  But that's not all, there are two other tournaments!  The College Basketball Invitational (CBI) and the CollegeInsider.com tournament (CIT), more on them in a moment.
The National Invitational Tournament (NIT) takes center stage tonight at Madison Square Garden. The NIT has been reduced to its Final Four. Alabama and Colorado tip in tonight's opener, followed by Wichita State against Washington State. The Crimson Tide and Buffaloes were top seeds and were just outside the Big Dance bubble. Wichita State and Washington State survived whereas top seeds Boston College and Virginia Tech from the ACC did not.
Its the 4th year of the CBI which began with a field of 16 teams. The CBI has reached its finals, but they do things differently than the rest with a best two of three championship. Creighton took the opener Monday night, with game two tomorrow (Wednesday) in Eugene, the if game Friday, also in Oregon, should the Ducks even the series . All games in the tournament played on campus of participating teams.
The newest member of the postseason, the CIT is in its 3rd year. 24 teams have been reduced to two with Santa Clara playing at Iona for the title tomorrow night. Like the CBI, all games in the tournament are played on campus.
I like the idea of tournament games being played on campus. Would the NCAA ever consider it for the Big Dance?  I like the idea of higher seeds getting a home game, at least in the first round, to reward a better regular season performance. As it stands now, a higher seed plays on a neutral court, sometimes a hostile one, despite having a much better body of work. Imagine if higher seeds played at home all the way to the Final Four. Would some of the long shots have won? Would VCU win at Kansas? Would Butler win in Gainesville? Just a though.