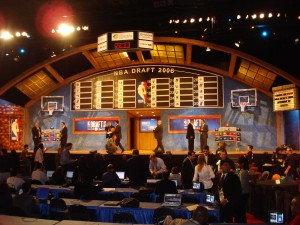 The focus of the NBA world will be on Chicago this week, not just because of the Eastern Conference Finals between the Bulls and the Miami Heat, but the combine as well. The best of the best will be showing their stuff for scouts and front office execs over the next three days in the windy city.
Did you watch the NBA draft lottery last night? It's must-see TV in my household.
I had high hopes that my hometown Washington Wizards would strike in back to back years, but unfortunately, they fell back (two spots) in the pecking order. Dreams of Derrick Williams and John Wall becoming the next Westbrook/Durant combo, gone…..
Of note, two of the top three picks coming via trade deadline deals. Cleveland's acquisition of Baron Davis also brought with it the #1 overall pick from the Clippers. New Jersey landed Deron Williams, but Utah was rewarded with the #3 overall selection. Was it a fix? Minnesota's front office certainly thinks so.
Over the past few weeks, we've been identifying some of the top prospects, now we project landing spots with our first mock.  We begin with picks one through ten.
1. Cleveland (from L.A. Clippers) Derek Williams SF Arizona 6'9″ 240
Most if not all mocks project Kyrie Irving here, not so fast my friend! Williams will emerge the best of the class and do so right away. The Cavaliers need a small forward to help fans forget you know who and can get a guard at #4. Williams can play either the three or four and would provide a nice rotation with Michael Beasley and Kevin Love.
2. Minnesota Kyrie Irving PG Duke 6'2″ 180
Will the Timberwolves every find their point guard? Minnesota selected THREE of them in the first round of the 2009 draft, but only one is on the T-Wolves roster. Syracuse point Jonny Flynn was taken #6 overall, immediately following Ricky Rubio who remains in Europe. Don't feel sorry for them as they absolutely stole that pick from the Wizards for a one year rental of Mike Miller and Randy Foye. UNC's Ty Lawson was taken #18, but immediately traded to Denver.  Forward Martell Webster ended up the eventual payment for Lawson.
3. Utah (from New Jersey) Enes Kanter C Kentucky 6'11" 260
The Jazz could go several directions here. Point guard Devin Harris turns 29 next season, but its too early to take local favorite Jimmer Fredette. Utah is set for years to come at forward with Gordon Hayward and Derrick Favors. Little trivia for you, the Hayward pick (#9 overall/2010) came to the Jazz along with Tom Gugliotta from Phoenix way back in 2004. Kanter is the top center in the draft and according to scouts, would have been #1 overall had he played for Kentucky this season.
4. Cleveland Brandon Knight G Kentucky 6'3″ 185
If I am Cleveland's GM, I am much happier with Williams and Knight, than I would be with Irving and whoever. When in doubt take a John Calipari point guard. The last two weren't too bad (Derek Rose and John Wall). Are the Clippers going to pretend that they are still happy giving up this pick (and Baron Davis) for Mo Williams. Sure the Clippers wanted to clear Baron from their books, but the price steeper than they hoped and expected. Knight and Williams will sell tickets and may develop into Oklahoma City east.
5. Toronto Jonas Valanciunas C Lithiuania 6'11" 240
What would an NBA draft be without the Raptors taking a Euro? Toronto has its highlight reel slasher in DeMar DeRozan and a couple of nice finesse bigs in Ed Davis and Andrea Bargnani. There is still hope that Jerryd Bayless can develop into a serviceable starting point guard. So the Raptors go big, again. Valanciunas is only 19 years old and is expected to eventually be a 7+ footer. Similar to Bargnani, without the shooting range, but oustide of Dirk, what 7 footer does?
6. Washington Kawhi Leonard F San Diego State 6'7″ 225
Williams would have been the perfect fit in Washington, but the Wizards lottery luck from a year ago didn't continue. Lottery rep John Wall made it be known that fellow Wildcat Kanter was his choice. The Wiz were fortunate to land Wall a year ago, helping fans forget the abortion known as the 2009 draft. In addition to Wall, the backcourt has depth, Jordan Crawford surprised after the deadline deal and restricted free agent Nick Young has developed into a fine scorer. Five recent first round picks man the post which remains unsettled, but not a disaster area of need. Small forward is that disaster area. Rashard Lewis will be a nice expiring contract at some point, but there is a definite need, now, and we like Leonard. Perimeter shooting is his lone weakness, but Kawhi has made strides, shooting him up draft boards, including ours.
7. Sacramento Kemba Walker G Connecticut 6'0″ 170
The Kings have made no secret their love affair for Walker. Point guard turned Mayor Kevin Johnson knows a draw like Kemba could go a long way towards building the new arena necessary to keep the franchise in the state capital.  Sacamento address inside in a big way a year ago with DeMarcus Cousins. Overachieving Ben Udrih has manned the point alongside  mercurial Tyreke Evans, but help is needed immediately in the backcourt. Walker would take some of the heat off of Evans and would create a nice mix as both can handle, create and score.
8. Detroit Jan Vesely F Czech Republic 6'11" 240
Rodney Stuckey is the face of the Pistons and orchestrates a blend of veterans on the perimeter. Tayshaun Prince may have played his last game in the motor city, but Ben Gordon, Richard Hamilton and surprisingly Tracy McGrady remain, for now… The Pistons are pleased with '10 first rounder Greg Monroe, but another young front court stud is priority number one. Vesley is one of the more intriguing talents in the draft, an extremely long small forward. Only 20 years old, Vesely may need time to develop and add bulk to his thin frame. Of note, Vesely is signed with his Belgrade team for several more seasons.
9. Charlotte Donatas Motiejunas C Lithiuania 7'0″ 230
Where do we begin? The Hornets may have more roster needs than any team in the Association. The Mavericks can thank Michael Jordan for his cost cutting trade of Tyson Chandler for spare parts. The starting backcourt of D.J. Augustin and Stephen Jackson will be pressed for minutes with the severe injury to backup Gerald Henderson. Up front, Tyrus Thomas is the future, nothing else with future impact on board the Charlotte roster.  Motiejunas may be a bit of a reach, but the Hornets are desperate for a difference maker inside. Motiejunas may have the biggest upside of the European talent, but may not contribute immediately.
10. Milwaukee Alec Burks G Colorado 6'6″ 190
The Bucks hit paydirt with the selection of Brandon Jennings at #10 in the '09 draft. Jennings has proven to be a floor leader that can also score in bunches. John Salmons is a capable backcourt mate, but Burks would be a younger option with a much bigger upside. Burks has prototype size for a two-guard and displayed elite scoring ability in college. More of a scorer than pure shooter, Burks is also a capable ball handler and could share duties with Jennings. Led by center Andrew Bogut and the potential of last year's mid 1st rounder Larry Sanders, Milwaukee's draft priority definitely lies at the wing.
Tomorrow we will take a look at picks 11-20.
The 2011 NBA draft will be held on Tuesday, June 23rd at the Prudential Center in Newark, NJ.