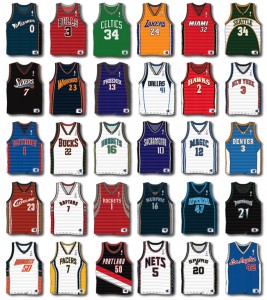 We continue our NBA mock draft with a look at picks eleven through twenty.
11. The Golden State Warriors are well equiptted to score the basketball, that's not in question. Last year, Golden State addresseda huge need signing super rebounder David Lee in free agency. Texas post man Trista Thompson would ease some of the responsibilities Lee has taken on tthe boards. Thompson is 6'9″ 225, but plays big, due in large part to his 7'0″+ wing span. Strictly a center for the Longhorns, Thompson will be limited  to the four or five spot at the next level. Thompson lacks a face up game and has very limited range. Ideally, the Warriors will hire a head coach before the draft.
12. If there is a perfect fit in the 2011 NBA draft, it has to be the Utah Jazz and Brigham Young point guard Jimmer Fredette. The twelve spot seems on target and the Jazz have a big need for a scoring guard with range. What better drawing card for Energy Solutions Arena in Salt Lake City than "Jimmer". Utah was extremely lucky to jump up to tthe third spot with the pick they acquired from New Jersey in the Deron Williams trade. We projected one time Kentucky big man Enes Kanter with that selection, to run alongside super young forwards Gordon Hayward and Derrick Favors. Point Devin Harris lends experience to orchestra the youngsters, if, he can stay healthy.
13. The Phoenix Suns never recovered from the loss of inside presence Amare Stoudamire last season. Phoenix failed miserably with an experiment with Hedu Torkoglu at power forward. The Suns did salvage things, moving Hedu back to Orlando in a package deal that included center Marcin Gortat. Point guard Aaron Brooks arrived in a deal at the deadline to spell Steve Nash. Jared Dudley emerged among a group of servicable wing players. While he'll never have Amare's offensive game, Bismark Biyombo, brings back the athleticism and then some. The super athletic big man from the Congo checks in at 6'9″ 250 with a shocking 7'7″ wingspan! Biyombo's build and explosivemess reminds me of Shawn Kemp. The Suns need big time help and this gamble could pay off.
14. In the first of two first round selections, the Houston Rockets need to go big. In the middle, two major question marks exist in Yao Ming and Hasheem Thabeet. Kyle Lowry and Goran Drajic can handle the point. Houston has a nice combination of players on the wing in Kevin Martin, Courtney Lee, Terrence Williams and Chase Budinger. Jordan Hill and Patrick Patterson, two recent number one picks appear to be more role player than impact in nature. The Rockets choose from Kansas combo forward Marcus Morris. Morris has a nice all-around balanced game, akin to a poor mans Derrick Williams.
15. The Indiana Pacers are in dire need off a shooting guard, preferably one with the shooting range of General Manager Larry Bird. Washington State guard Klay Thompson could be that man. Thompson has two-guard prototype size, 6'6″ 200, and is the best pure shooter in the draft. Thompson works hard off the ball and could be utilized much like Ray Allen off picks and screens. The Pacers have settled in with Darren Collison at the point, spelled by  TJ Ford. Danny Granger, the most underrated player in the NBA mans the three, with Paul George and Mike Dunleavy excellent options. Indiana really made strides in the paint, with center Roy Hibbert along with power forwards Tyler Hansbrough and Josh McRoberts taking their games to the next level.
16. The Philadelphia 76ers have assembled some of the most athletic, exciting perimeter players in the Association. Philly is well stocked at the point with Jrue Holiday and Louis Williams. Andre Iguodola, Thaddues Young and Evan Turner are the most explosive wings in the Eastern Conference north of Miami. While the Sixers win battles on the perimeter, its inside the pain where they are losing the war. Philly needs someone to defend the paint and more importantly rebound. How about Morehead State power man Kenneth Faried? Faried plays bigger than his size, 6'8″ 225, impressively leading the Ohio Valley Conference in rebounding, blocks and steals. Elton Brand is doing his best, but a catastrophic injury and a nightmarish contract have been a negative. Head Coach Doug Collins believes center Spencer Hawes has room to go and wants to bring him back next season.
17. No team in the Association has more roster spots to fill than the New York Knicks. In order to land Carmelo Anthony, New York had to send all its young quality depth to the mile high city. The Knicks remain a work in progress, Melo is on board, joining  Amare Stoudamire and both sides want Chauncey Billups to re-up in the big apple. Amare needs help in the paint ASAP and New York would be best served taking a power player like Markeiff Morris of Kansas. Markieff is a more powerful, athletic player than twin brother Marcus, but his offensive skill set is not ready for prime time. Retaining Billups is a must, as shooting guard Landry Fields and sixth man Toney Douglas are more effective in support roles.
18. The Washington Wizards have a second 1st round pick, courtesy of the Atlanta Hawks as part of the Kirk Hinrich trade. With the number six pick, we projected San Diego State forward Kawhi Leonard. The  need is such that another forward, Florida State's Chris Singleton, also makes sense for the Wiz. A 6'9″ defensive specialist, Singleton projects as a shutdown combo forward at the next level.  If Washington retains Nick Young, they will maintain a nice rotation with John Wall and Jordan Crawford. The Wizards have five recent first round picks in the post, but look for them to move Aundray Blatche. Rumors persist he may be  headed to Minnesota with picks for the #2 overall pick.
19. The Charlotte Hornets also have a second 1st round pick, partial payment for the inexplicable trade of small forward Gerald Wallace to  Portland. Over the course of six months, General Manager Michael Jordan parted ways with a pair of defensive specialists, center Tyson Chandler, and Wallace without getting anything substantial  in return. With their own pick earlier, we projected Euro big man Donatas Motiejunas. Charlotte needs to build inside out and draft Georgia forward Trey Thompkins at number 19. MJ has shown an interest in drafting local talent in the past, like Duke guard Gerald Henderson. Thompkins is limited to power forward, lacking the mobility to play the three and too small to man the middle
20. The Minnesota Timberwolves have an extra selection as part of a three team trade sending Al Jefferson to Utah.  The T-Wolves are making alot of trade noise and either first round pick may be involved in a deal. The latest rumor with Indiana small forward Danny Granger heading North. Should Minnesota retain the pick, a big man is in order. We like Purdue power forward JaJuan Johnson. Johnson is 6'10" and athletic enough to play either forward slot. Johnson is a rare four year college star, while mature, probably has a limited upside.
Tomorrow, we wrap up our first round mock, with a look at picks 21-30.