The year of 2013 is quickly coming to an end which means its time for another year-end post about the most popular website to host fantasy leagues.  As you may recall from last year, I wrote a blog post that compared 2011 to 2012. Feel free to give it a read if you haven't already.
For those of you not familiar with FantasySP, we allow our users to sync their fantasy leagues in order to provide them with unique analysis and insight to help manage their teams and stay on top of player news.  Our fantasy tools will alert you of important player news, waiver trends, suggest waiver pickups, analyze trades, chart your teams performance over time, and offer start/sit suggestions.
This year I will be providing much of the same analysis in terms of the most popular fantasy hosts. This year we have over 10,000 fantasy leagues ranging from August 1st up until now and added support for two additional websites: Fleaflicker and MyFantasyLeague.  Also included in this blog post will be charts from the previous seasons of 2011 and 2012 so you can see how the market has changed over time.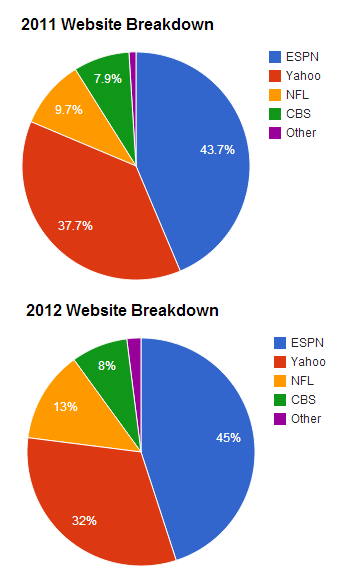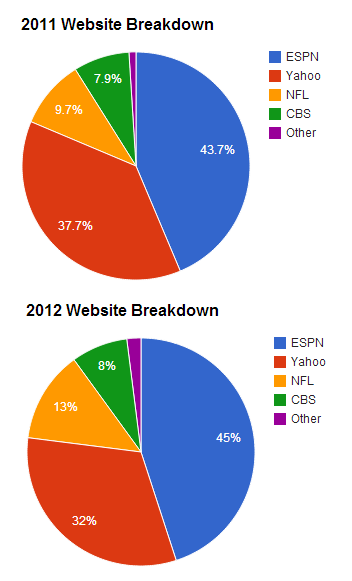 Making Sense of the Numbers
CBS' market share of fantasy football games has continued to erode over the past 3 years and now sits at 4.6%. For the first time since NFL.com fantasy launched, it has actually decreased to 1%.  ESPN continues to dominate the fantasy market and now sits at nearly 50% of the market share.
ESPN is the only fantasy host to gain market share 3 years in a row.  It also seems as though Yahoo may be making a rebound and for the first time has actually gained market share.
NFL.com has gone from: 9.7% to 13% to 12.1%
Yahoo has gone from: 37.7% to 32% to 32.5%
ESPN has gone from: 43.7% to 45% to 49.7%
CBS has gone from: 7.9% to 8% to 4.6%
Three Major Fantasy Sports Analyzed
For this final section, I think it would be interesting to see what it looks like when three major fantasy sports leagues are analyzed to see current market share.  This includes hockey, basketball, and football.  Unfortunately baseball cannot be accurately calculated since it is the off-season.
Not too surprisingly, things remained very much the same for most of the fantasy websites.  The only noticeable difference is that Yahoo is a popular choice for hockey and basketball players.
Full Disclosure & Wrap Up
FantasySP is not affiliated with any of these websites.  We do offer CBSSports apps to fantasy football leagues, which may skew the data slightly.  However, after adding basketball and hockey leagues into the mix, the numbers suggest the impact is minimal.
The continued popularity of daily fantasy games is something that we cannot factor into market share.  Therefore, this analysis should be considered to cover "traditional fantasy sports" games only.
Feel free to comment or email with any thoughts or concerns.