During fantasy drafts  many of us base our picks on average draft position, sometimes referred to as ADP.   Today is the official announcement of our  average draft position tool, which is available for the NFL, MLB, NHL, and NBA.  The key difference with our tool is that it's completely free, offers historical ADP numbers, and is customizable to closely match your league.
One of the biggest drawbacks to some of the Average Draft Position tools is that it is impossible to see how a specific player's ADP changes throughout the course of draft season.  We wanted to change that and show historical charts for the top 250+ players.
Here is what Jean Segura's ADP chart looks like so far: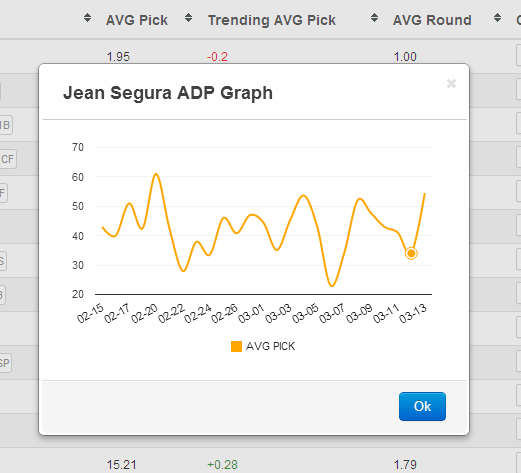 Thus far Segura is very up and down with his highest ADP to be at around 23.  Knowing where a guy is trending could very well change your draft day strategy.
Our ADP tool can be particularly useful when customizing it for auction drafts and looking how prices change for each player.  Yahoo's ADP tool shows average cost for Trout and Cabrera to be at around $60 and doesn't offer any customization.  As it turns out, the average cost changes drastically depending on how many teams are involved.  When comparing auction leagues with 12 teams vs 10 teams, the average cost of the most expensive player increases by around $15.00 – $20.00.
Full list of customizations include Draft Type: (snake or auction), League Type: (h2h or roto), and Number of Teams: (6 – 20).  The NFL ADP tool will have slightly different options than those listed here, with the support of PPR leagues.  Our ADP tool is also optimized for mobile phones or desktop users.
The data that populates our ADP tool comes from fellow FantasySP users who synced their leagues.  Because this tool was created during draft season, you'll notice that some stats are a bit light at the moment.  As draft season continues, it should populate with hundreds more leagues by the time draft season ends.
Go ahead and give it a try.