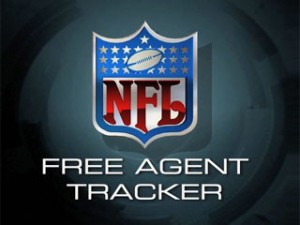 The NFL draft filled some clubs needs, but not all teams, and not all holes. Once the labor talks have ended, Free Agency will be fast and furious. To be eligible for unrestricted free agency, a player must have six years of playing experience.
Limited free agency in early March included San Diego signing safety Bob Sanders, Washington picking up safety O.J. Atogwe, the Panthers adding tight end Jeremy Shockey, New Orleans coming to terms with defensive lineman Shaun Rogers and the Patriots trying to fill the Richard Seymour vacancy from a year ago with his college teammate at Georgia, Marcus Stroud.
Many teams are in need of a quarterback and there's not exactly a deep pool of signal callers. Teams like Washington, Miami, Buffalo, Seattle and Arizona failed to address the need in the draft.  Baltimore's Marc Bulger, Houston's Matt Leinart, Tennessee's  Vince Young and Seattle's' Matt Hasselbeck are expected to garner the most interest. Veteran Redskins QB Donovan McNabb and Cincinnati's Carson Palmer are not expected to return to their current teams and may end up being the most sought after. When all is said and done, it may resemble the movie Trading Places.
There is no shortage of running backs, with Miami's duo of Ronnie Brown and Ricky Williams, San Diego specialist Darren Sproles and Cincinnati workhorse Cedric Benson possibly on the move.
A real mixed bag at wide receiver led by veterans Terrell Owens, Steve Smith and Randy Moss. The younger set of former high draft picks; the Jets tandem of  Braylon Edwards and Santonio Holmes along with my favorite, Minnesota's Sidney Rice. How about Plaxico Burress? Who will give the troubled former Giants star a second chance.
Three offensive tackles with a solid pedigree, Baltimore's Jared Gaither, Washington's Jamaal Brown and Matt Light of the Patriots will be heavily pursued as immediate starters.
The premiere defensive lineman in free agency is Green Bay end Cullen Jenkins. Those looking for linebackers will be taking a long look at Washington's Rocky McIntosh and San Francisco veteran Takeo Spikes.
The most sought after free agency will undoubtedly be Raiders cornerback Nnamdi Asomugha. The entire NFC East is said to be lining up to bid on Oakland's shut down cover man. Other corners certain to attract interest include Washington's Carlos Rogers and the Jets Antonio Cromartie.
Free Agency will not be limited to veterans. Clubs have had time to review and analyze top college talent that slipped through the draft. We will visit that another day.